Mind the Traffic
Every blogger wants to attract a lot of traffic but, once you've built up a strong following, the hard work doesn't stop there; you also have to keep your followers. There are many reasons that people will stop reading your blog posts mid sentence.
It may be because:
Your posts are too long.
Your posts are too short.
Your posts are poorly formatted.
Your posts are simply boring!
Your posts contain spelling mistakes.
Your posts are poorly written with lack of punctuation and poor grammar.
Fortunately, there is a simple way to fix the last two issues. There is a great piece of software called Grammarly which will spot and correct any spelling mistakes and help you to write clear, concise sentences.
---
This site and post may contain affiliate links from Amazon, Bluehost, Grammarly, Zazzle, WordPress, Shutterstock, Society6, Teepublic, Redbubble and if you click on a link and purchase a product from that website I will earn a small fee (which will go towards getting me Out of the Office!)
---
Keep Your Readers
Many people will simply stop reading if your post contains spelling mistakes. If you can't be bothered to check your spelling, why should people be bothered to read your blog?

Grammarly can help! It's a versatile piece of software and, what's even better, it is free!
Can You Repeat That?
Yes, I said free!
Free Writing Assistant
The writing assistant will help you compose bold, clear, error free writing which your blog followers will enjoy reading.
If you log onto the Grammarly website, the online free Grammar check will allow you to scan your writing for hundreds of types of English grammar mistakes. You can then apply suggested corrections instantly and enjoy the confidence of knowing your work is polished and error-free.
Once downloaded, Grammarly will correct your writing on your email and messages, documents and projects and on your social media entries.

Punctuation
Punctuation errors will be a thing of the past. A misplaced comma can change the meaning of your whole sentence. Grammarly's sentence checker ensures that all your commas, apostrophes, periods (full stops), and semicolons are used in the right place at the right time.
Students – Meet Those Deadlines
Grammarly is not just useful for bloggers; it's also a helpful tool for students Dissertations are no problem if you use Grammarly! Not much time to finish that essay? Don't worry – Grammarly will spell-check it for you.

Plagiarism
Grammarly does not just fix your spelling and grammar – it also has a facility for checking plagiarism. Grammarly will check your text against ProQuest's academic databases and over sixteen billion webpages.
Go Premium
The free Grammarly program will tell you if your writing contains duplicate content. The premium upgrade will highlight passages that require citations and will give you the resources you need to properly credit your sources.
The online plagiarism checker was originally designed for students, but it's a useful tool for writers in any field who want to create fresh, original, plagiarism-free work.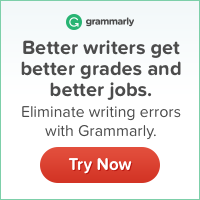 English as a Second Language
It is often obvious to your audiences if you're not writing in your native language and it's a big turn off for many readers. If you aren't writing in your first language, Grammarly can help you out.
Grammarly Premium offers advanced suggestions about word choice, vocabulary, run on sentences, tone, and more. With Grammarly Premium, you'll have access to everything that comes with the free check, plus over a hundred additional advanced checks and features.
Grammarly can look after your writing and leave you free to concentrate on the content of your blog.
Grammarly
Free
Corrects spelling
Corrects punctuation
Detects plagiarism
Improves your writing
You have to admit that Grammarly is an extremely useful tool. Twenty million people use Grammarly – why don't you join them?
Don't Delay!
Download Grammarly today! Your blog may still be boring but at least it will be grammatically correct!

Happy Blogging! Let your readership grow!