Get Yourself Out of the Office
If you want to make money from your blog or website, it's a good idea to sign up to a couple of affiliate schemes.
And Grammarly is one of the best affiliate schemes by far!
---
This site and post may contain affiliate links from Amazon, Bluehost, Grammarly, Zazzle, WordPress, Shutterstock, Society6, Teepublic, Redbubble and if you click on a link and purchase a product from that website I will earn a small fee (which will go towards getting me Out of the Office!)
---
What is Grammarly?
Grammarly is a writing assistance program which spell-checks, corrects grammar and punctuation and also checks for plagiarism. So it's a very useful tool that would help everyone.
How Do I Sign Up?
Simply click on this Grammarly link and you too, can sign up to be a member of one of the best affiliate schemes and start earning immediately by getting a bonus payment for writing an introductory blog post!
Tell Me About the Bonus!
Once signed up you can earn a bonus amount by simply writing a post on your blog telling people about Grammarly. Insert a banner and (at the time of writing) you can earn a bonus payment of $25. It's as simple as that!
Even if you are just starting out as a blogger and don't have much website traffic yet, you can earn this bonus payment for very little effort.
The only requirements are that the blog post must be honest and reflect your own views. You must represent Grammarly in a professional and relevant manner. You must use proper punctuation and spelling (so why not sign up to Grammarly yourself to proof-read your blog posts!) It's particularly useful if English is your second language.
Commission Details
Place banners and links for Grammarly onto your site and, when readers click through, you can earn:
$0.20 for every free registration
$20 for every premium plan purchase
Other Benefits
High conversion rates (20-30%)
Cross-device tracking
Regular performance incentives
A 90 day cookie window!
Grammarly have a fantastic affiliate support team which is another reason that Grammarly is one of the best affiliate schemes around. You will be allocated an account manager who will actually answer any questions personally!
Surely There's Not More?
There is!
If you become a top performing affiliate, Grammarly will offer you:
Cash bonuses
Increased payouts
Exclusive discounts

And Just One More Thing!
You can even earn by introducing others to Grammarly's affiliate programme!
How Do I Get Paid?
Grammarly's Affiliate Programme offers three payment methods:
Cheque (for US residents)
Bank Wire
Direct Deposit
If you are outside the US, make sure your bank account accepts US dollars. (Grammarly does not make payments by PayPal unfortunately.)
How Can You Promote?
On your website or blog, in a newsletter or email, by placing banners which are available from the Grammarly affiliate website.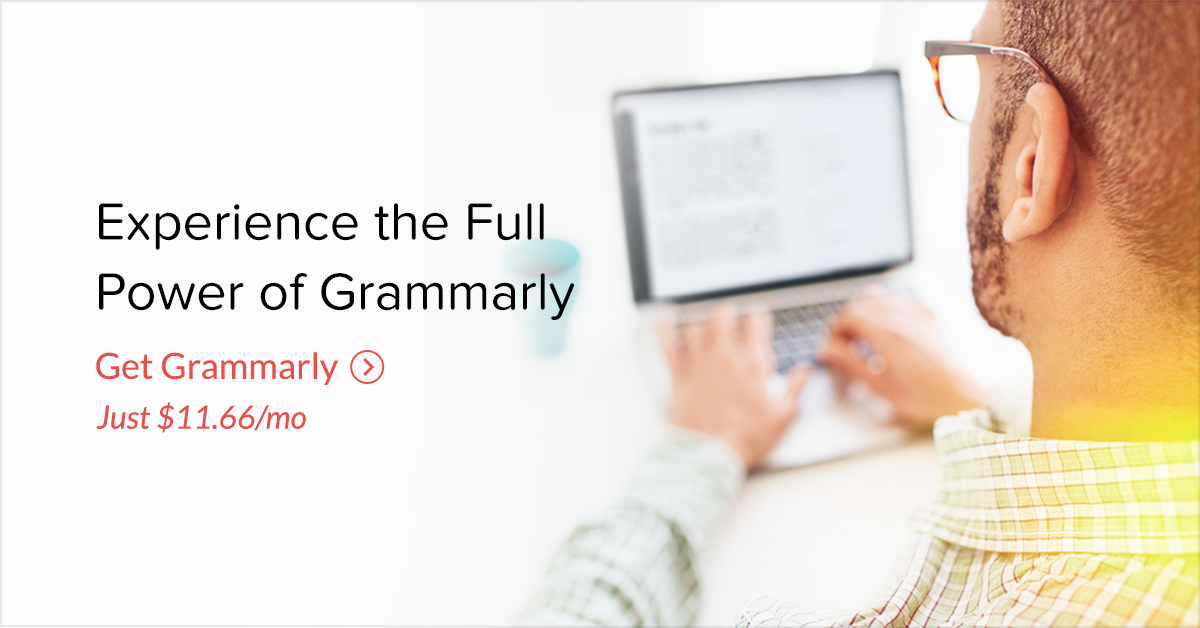 And the Best Thing About Becoming a Grammarly Affiliate?
Is that Grammarly is a really useful product you can believe in and feel good about promoting!
So What Are You Waiting For?
It's as easy as that!
Make money from your blog/website and get yourself Out of That Office now!
© Michelle Le Grand
Out of the Office
Le Grand Art Blog
My Zazzle Store
Artweb